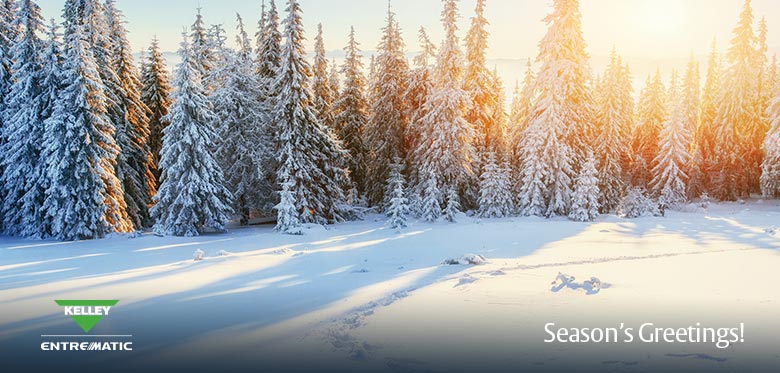 As 2017 draws to a close, many of us across the country are dealing with a variety of mixed emotions.
They range from eager anticipation of a fresh and exciting beginning that another year always brings, to profound relief that such a difficult year is nearly over — due in part to the various natural disasters and other unfortunate events that have taken place in several parts of our nation over the past 12 months or so.
And the effects of such large-scale events are lingering.  For example, our Houston neighbors to the south and areas all the way up the Texas Gulf coast are still recovering from the massive flooding and other devastating impacts from Hurricane Harvey.
And while the Thanksgiving holiday is already a few weeks behind us, the entire year-end holiday season always seems to carry on the themes of thanksgiving and gratitude. It's our hope that those themes will last well into 2018 and beyond.
As for all of us at Entrematic, we have a lot to be thankful for as we look forward to the new year . . .
We're thankful for all our insightful and hard-working team of employees. They're passion for the highest levels of quality manufacturing, to stellar levels of customer service and responsiveness make us proud throughout the year.
We're thankful for the quality relationships that we have with our raw material suppliers. Their materials and products are, in turn, critical to the products that we manufacture.
We're thankful to all our systems suppliers, software engineers, and developers. Their expertise helps us stay current with the latest technology trends and developments.  That then makes us better and more efficient at what we do as we provide smart solutions for our customers.
We're thankful for our nationwide distributor network. That includes the business owners themselves and their enthusiastic sales teams who all share the same passion we have for our products and services.  And we especially thank the hard-working installation teams that put our various products into service.
And above all, we're thankful for our loyal customers. They put their trust and confidence in our knowledge and expertise every day to get their jobs done in a safe and efficient manner — whether they're upgrading a warehouse or distribution center loading docks, running a highly efficient yard operation, or even improving the comfort of their employees' working environment.
As we look forward together to 2018, Entrematic wishes you and yours a very prosperous, healthy and Happy New Year, as well as a bright and enjoyable Christmas holiday season with family and friends!