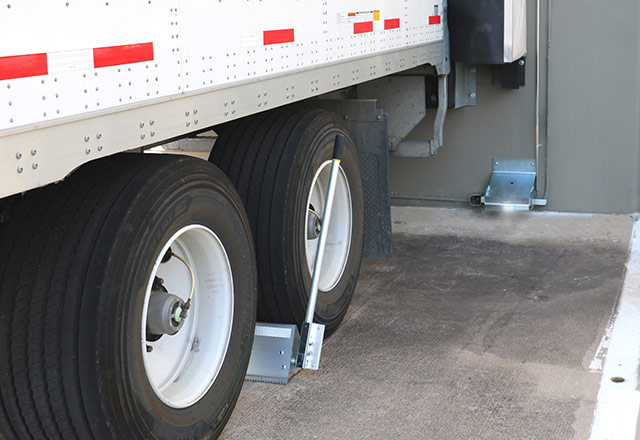 Kelley VERSACHOCK provides a simple, cost-effective means of securing trailers while effectively communicating operation status with drivers and dock workers to ensure a safe and productive dock operation.
The Kelley VERSACHOCK is a versatile vehicle restraint system that accommodates a wide variety of trailers and vehicles regardless of the condition or presence of an ICC bar. VERSACHOCK includes a patent pending, wireless engagement design that provides wheel detection at all engagement ranges and requires no chock cabling or permanent structure installed on the drive to secure the vehicle. In addition, Kelley VERSACHOCK fulfills the requirements of OSHA Regulation 29 CFR – 1910.26(b)(2).
Read More
BEST FOR THESE INDUSTRIES & CHALLENGES
VERSACHOCK™ Wheel Chock Wireless Trailer Restraint System Design Features
Wireless Engagement Detection: patent pending engagement design provides wireless wheel detection at all engagement ranges. No chock cabling or wiring is required
Anodized Aluminum Chock: 6063 aluminum extrusion with clear hard anodize finish for superior corrosion protection
Pivoting Chock Sensor Arm: built in sensor reflector provides superior engagement detection and reduced storage profile
Heavy duty Wheel Trigger: pivoting 3/4 inch steel wheel trigger
Heavy Duty Storage Cradle: 1/4 inch galvanized steel cradle design provides both secure storage for the chock as well as engagement detection lighting and sensor arm adjustability. All exterior power is 24V dc.
Stainless Steel Sawtooth Anchor: prevents movement of the chock under wheel engagement
Industrial Sensor Unit: extended range retroreflective all-weather beam sensor with full adjustability at installation
Wheel Engagement Light: high intensity all weather white LED light communicates to the operator when the chock is in proper wheel engagement
Kelley VersaChock Wireless Wheel Restraint System
loading...