AIR-POWERED DOCK LEVELERS
THE DOCK LEVELER THAT REVOLUTIONIZED THE INDUSTRY

Kelley revolutionized the industry in 1994 bringing air bag lifting technology to the loading dock with the air-powered dock leveler. Kelley now offers three models of innovative air-powered dock levelers that are simple, durable and contain a minimal number of moving parts.  And that means a clean operation for your facility.
The Kelley aFX® Series dock levelers—including the aFX, the original Kelley air-powered dock leveler— take the loading dock to the next level of performance with a proprietary airDefense® Technology leg design to prevent stump-out.  aFX-S excels at preventing accidental forklift runoff due to its constant structural steel barrier.  And the aFX-C offers basic air-powered dock leveler performance while being the most economical solution.
When your warehouse needs safe, powered performance at an affordable price, the air-powered dock levelers in the Kelley aFX Series are your best choice.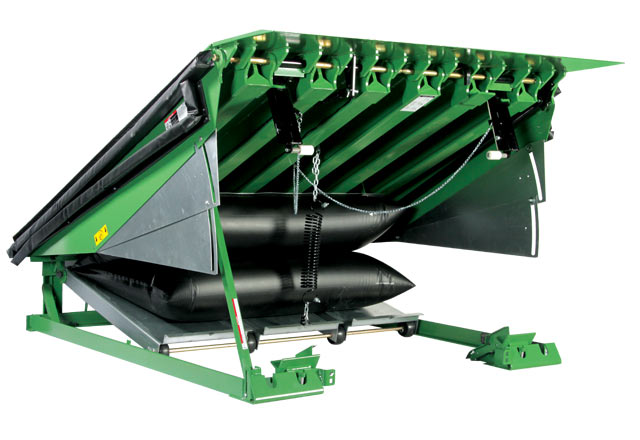 AIR-POWERED DOCK LEVELER DESIGN ADVANTAGES
120V single phase operation
Simple, clean high volume low pressure air lifting system
Safe-T frame
Clean subframe design
Unique gravity extended lip
Heavy-duty dock bumpers
Patented lambda beam construction
Air defense safety system
Integral maintenance strut and lip support