Commercial HVLS (High Volume, Low Speed) large diameter fans are an ideal solution for providing efficient air movement in large spaces such as warehouses, factories, gymnasiums, and other commercial buildings. Our commercial HVLS fans have a diameter of 6-14 feet and are designed to circulate large volumes of air at low speeds, creating a gentle breeze that can cool a large area of space without creating disruptive noise or draft.
HVLS fans are energy-efficient, as they require less power to operate than traditional high-speed fans, and they can help reduce heating and cooling costs by improving air circulation and ventilation. They are also low-maintenance and can last for years with minimal upkeep. Some of the key features of commercial HVLS fans include their durable construction, quiet operation, and customizable speed and direction settings. They can be installed in a variety of settings, including indoor and outdoor environments, and can be controlled remotely for added convenience. Overall, large commercial ceiling fans are an effective and efficient solution for cooling and ventilating large commercial spaces while minimizing energy costs and maximizing comfort.
Read More
Best For These Industries & Challenges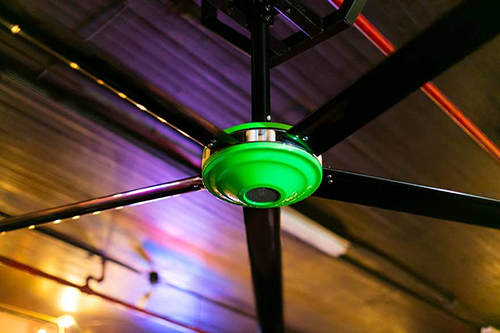 COMMERCIAL HVLS FAN DESIGN FEATURES
LESS THAN 35 dBA

Results of sound measurement in the field may vary due to variation in surface types, environment and conditions

CONTROL OPTIONS

Wired Touch Screen standard and other network control options available

AMCA CFM TESTED

Reference product spec sheet for CFM numbers

COLOR OPTIONS

Seven standard color options and lots more available upon request

Standard and iFan-enabled network control panels with brightly lit, easy-to-use touch screens.
Specifications & Resources